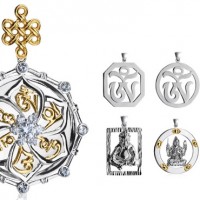 His Eminence Tsem Rinpoche has often mentioned to his students that wearing a Buddha image blesses our body and protects us from negative energies.
It benefits the person wearing it and also plants seeds of enlightenment in anyone who sees the sacred image.
Buddha pendants can be made from precious materials such as gold, white gold or silver, and decorated with precious stones and gems, as they are all offerings to the Buddhas.
Rinpoche himself also designs Buddha pendants which are iconographically correct according to traditional scriptural sources with the motivation that they bestow the Buddhas blessings to all who see it.
VajraSecrets offers a wide variety of holy Buddha pendants designed by H.E. Tsem Rinpoche