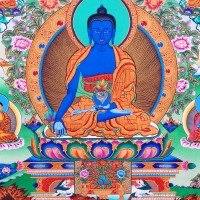 "May I relieve those afflicted by diseases which destroy life, destroy work, leave families broken, worse suffering and take happiness away."
"May I relieve them of their disease and suffering, relieve their inner, outer and secret diseases. "
"May I stop natural calamities and the diseases or unhappiness arising from that. May I be the cause of people being freed from suffering."
The Medicine Buddha made this special wish prior to gaining enlightenment and he now helps us in the great capacity of a healer. Endowed with healing energy, the Medicine Buddha puja encourages healing of all levels – physical, mental and emotional healing for those in need.
It is a very powerful way to help people who suffer especially from sicknesses and for families or friends of people who are sick. For those whose profession is to heal others (e.g. doctors, nurses, therapists, counselors, masseurs, energy healers etc), Medicine Buddha's practice is supreme to make their healing work more efficacious and effective.
Benefits:
Physical healing
Mental healing
Emotional healing
Enhancing the work of those in the healing profession
This puja is available in the Kechara Puja House in both Small and Medium puja sizes, depending on the scale of the problem. Click here for more information.