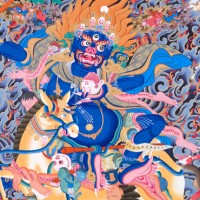 Palden Lhamo is one of the main Dharma Protectors in Tibetan Buddhism. Also known as Shri Devi in Sanskrit, she is a direct emanation of the Goddess Saraswati manifesting in a wrathful form.
Palden Lhamo's form is that of a fierce female ogress, with jutting teeth and fangs. Her three eyes represent her ability to see into past, present and future realms without any type of obstruction. She is dark blue in colour representing her attainment of great bliss – the realization of emptiness.
Her right hand is in the sky holding a skull cup representing the destruction of obstacles. The skull cup is filled with blood, representing great bliss.
She carries a human-skin bag full of diseases that she collects from those who invoke her. Her legs are in a semi-relaxed posture and chains connect one ankle to the other.
Palden Lhamo is the personal protector of the Panchen Lama and of all fourteen incarnations of the Dalai Lama. She is practiced within all four schools of Tibetan Buddhism and she is a fully enlightened Buddha.
Propitiating her and making offerings to her is extremely beneficial to overcome our spiritual and worldly obstacles.
Her spiritual energy in the form of sound that helps to transform the mind (Mantra):
JO RAMO JO RAMO JO JO RAMO TUNJO KALA RACHENMO RAMO AJA DAJA TUNJO RULU RULU HUNG JO HUNG