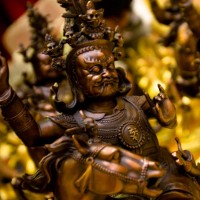 Setrap, a wrathful emanation of Amitabha Buddha, is an ancient Dharma Protector from the holy land of Bodhgaya in India. Sworn to protect the teachings of Buddha, Setrap's practice was introduced to Tibet, and has since flourished. He has been the Dharma Protector of Gaden Shartse Monastery for the past 600 years. 
Setrap's puja main intention is to swiftly alleviate our immediate problems and create a conducive condition for spiritual practice. In response to the sincere prayers requesting for his assistance, his puja brings relief from all sorts of negative energies; ie: black magic, and grants strong protection against paranormal harm.
Benefits:
Protection from black magic and spirit disturbances
Removing physical and mental obstacles
Creating conducive conditions for spiritual practice
This puja is available in the Kechara Puja House in both Small and Medium puja sizes, depending on the scale of the problem. Click here for more information.