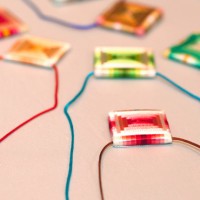 Chakras are blessed talismans containing the Buddha's essence, power and protection. The powerful energies within provide very effective protection against negative energies such as harmful supernatural forces, accidents, spells and black magic. Chakras also bless us with the energies of wisdom, healing, longevity and wealth.
Chakras contain a piece of paper, adorned with saffron, which has diagrams, mantras and prayers written on it. These specifically invoke the body, speech and mind energies of the Buddhas.
The outer surface of the chakra is covered with traditional hand-woven Tibetan designs. Chakras are usually hand-made and consecrated by monks in a careful process that include pujas and mantras.
Small and lightweight, chakras offer us great blessings and protection and are easy to keep close at hand. As different chakras contain the mantras and essence of different Buddhas, each chakra will have different benefits and purposes.
VajraSecrets offers various chakras of different deities to cater to individual needs.
nbsp;