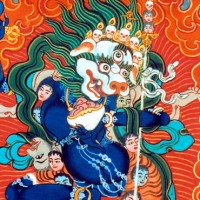 Glorious adamantine Goddess,
Wrathful female with lion's face,
Whose fire of Gnosis emanates light-rays,
Lion-faced Goddess – to You I bow.
Mantra:
AH KHA SAMA-RANZA SHANDA-RASA MARAYA PHET
Lion-faced Dakini!
Because of the force and power of the recitation of Your Mantra,
Let enemies who torment us teachers, pupils and attendants,
hindering spirits who harm us, obstructive conditions, and in short,
every enduring inauspiciousness, be turned back!
Host of blazing wrathful females!
Smash into dust-motes the body and speech
Of all the nature of hindering foes,
And release their consciousness in Dharma-Dhatu!
Through recitation of Your mantra,
Let me quell all injury,
Achieve my aims just as I wish,
And spread the Doctrine in teaching and practice!