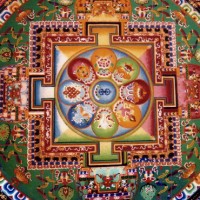 Short Mandala Offering
SA ZHI PO KYI JUG SHING ME TOG TRAM
RI RAB LING ZHI NYI DAY GYAN PA DI
SANG GYE ZHING DU MIG TAY UL WAR GYI
DRO KUN NAM DAG ZHING LA CHO PAR SHOG
This ground, anointed with perfume, flowers strewn,
Mount Meru, four lands, sun and moon,
imagined as Buddha-land and offered to you.
May all beings enjoy this pure land.
IDAM GURU RATNA MANDALAKAM NIRAYATAYAMI
Long Mandala Offering
OM VAJRA ground AH HUM, mighty golden ground.
OM VAJRA fence AH HUM, the iron fence around the edge; in the centre is Mount Meru, the king of mountains.
In the east the continent Lupagpo; in the south, the continent Dzambuling; in the west, the continent Balangcho; in the north, the continent Draminyan.
In the east are the sub-continents Lu and Lupag; in the south Ngayab and Ngayabzhan; the west Yodan and Lamchogdro; in the north Draminyan and Draminyan Gyida.
In the east, the treasure mountain, in the south the wish-granting tree, in the west the wish-granting cow, in the north the uncultivated crops.
Here are the precious wheel, the precious jewel, the precious queen, the precious minister, the precious elephant, the precious horse, the precious general, the great treasure vase.
Here are the goddess of beauty, the goddess of garlands, the goddess of song, the goddess of dance, the goddess of flowers, the goddess of incense, the goddess of light and the goddess of perfume.
Here are the sun, the moon, the precious parasol, the banner of victory in all directions and in the center are the most perfect riches of gods and humans, with nothing missing, pure and delightful.
To my glorious, holy and most kind root Guru, the lineage Gurus, and in particular to the great Lama Tsongkhapa, Buddha who is the King of Sages, Vajradhara, and the entire assembly of deities, I offer these as a Buddha-field.
Please accept them with compassion, for the sake of migrating beings. Having accepted them, please bestow on me and on mother sentient beings abiding as far as the limits of space, your inspiration with loving compassion.
IDAM GURU RATNA MANDALAKAM NIRAYATAYAMI