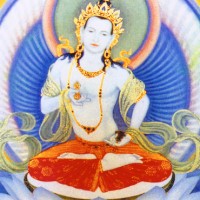 Vajrasattva is the manifestation of the purity of body, speech and mind of all the Buddhas. The practice of Vajrasattva is especially effective for purifying negative karmic imprints created by the ten non-virtuous actions and transgressions of precepts, vows and commitments.
By applying the Four Opponent Powers, this practice can help to purify our negative actions and alleviate guilt, remorse and feelings of unworthiness that keep us from going forward in our lives.
1. Power of Reliance: Taking Refuge and Generating Bodhicitta
I take refuge until I am enlightened in the Buddhas, the Dharma and the Sangha.  By the positive potential I create by practising generosity and the other far-reaching attitudes, may I attain Buddhahood in order to benefit all sentient beings.
2. Power of Regret
The negative karma I have accumulated from beginningless time is as extensive as the ocean. Although I know that each negative action leads to countless eons of suffering, it seems that I am constantly striving to create nothing but negative actions.
Even though I try to avoid non-virtue and practise positive acts, day and night without respite, negative and ethical downfalls come to me like rainfall. I lack the ability to purify these faults so that no trace of them remains.
With these negative imprints still in my mind, I could suddenly die and find myself falling to an unfortunate rebirth. What can I do?
Please Vajrasattva, with your great compassion, guide me from such misery!
3. Power of Remedy: Mantra Recitation
Hundred Syllable Purification Mantra of Vajrasattva
OM BENZASATTO SAMAYA MANU PALAYA / BENZASATTO TENO PATITA  / DIDRO MAY BHAWA / SUTO KAYO MAY BHAWA / SUPO KAYO MAY BHAWA / ANU RAKTO MAY BHAWA / SARWA SIDDHI ME PAR YATSA / SARWA KARMA SUT TSA ME / TISHTAM SHRIYAM KURU HUM / HA HA HA HA HO / BHAGAWAN SARWA TATAGATA / BENZA MA MAY MUN TSA / BENZA BHAWA MAHA SAMAYA SATTO / AH HUM PHET (At least 21x daily)
Short Mantra of Vajrasattva
OM BENZA SATTO HUM
4. Power of Restraint: Promise not to commit negativities again
Before Guru Vajrasattva, I vow never again to commit these negative actions at least for a day, an hour or a few seconds from which I find it difficult to abstain.
Dissolving Vajrasattva into yourselves
Visualise Vajrasattva melts into light and dissolves into you and your three gateways become inseparably one with Vajrasattva's holy body, speech and mind.
Dedication
By this merit may I attain the enlightened state of Vajrasattva, that I may be able to liberate all sentient beings from suffering.