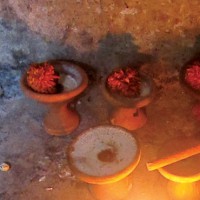 Preparations
Candles
Incense
The actual land owner offerings – biscuits, milk, tea, cakes, flowers, drinks, breads, etc are ok. DO NOT offer anything containing meat or alcohol.
Procedure
Recite in the following order:
1. Going for Refuge and Generating Bodhicitta
3. Gaden Lhagyama (Je Tsongkhapa's Guru Yoga)
4. Setrap's Prayer, Black Tea and Mantra
5. Offering to the Land Owners
Light candles and incense before starting the land owner offering
OM BENZA AMRITA KUNDALI HANA HANA HUM PHAT!
OM SVABHAVA SHUDDHA SARVA DHARMA SVABHAVA SHUDDHO HAM!
All becomes empty. From within Emptiness, from DRUNG, comes a broad, vast Jeweled vessel, inside of which, from OM melting into light, there arises a torma of a Great ocean of undefiled nectar of wisdom.
OM AH HUM [3x]
NAMA SARVA TATHAGATA AWALOKITE OM SAMBARA SAMBARA HUM! [3x]
I prostrate to the Bhagawan, the Tathagata Many Jeweled One (Shakyamuni)
I prostrate to the Tathagata Supreme Beautiful Form (Avalokiteshvara)
I prostrate to the Tathagata Infinite Bodied One (Manjushri)
I prostrate to the Tathagata Free From All Fear (Vajrapani)
This torma, an ocean of nectar
Endowed with the five perfect sensual objects,
I offer to Tema, goddess of the earth,
And all land owners of the three thousand worlds,
To the five sister goddesses of long life,
And all protectors of stability who reside in Tibet,
And especially to the devas, nagas,
And land owners dwelling in this very region.
Having accepted, I request you to gather, as we wish
All harmonious conditions for whatever actions
We and the sponsors perform,
Without showing anger or jealousy
By the power of my thoughts,
By the power of the blessings of the Tathagatas,
And by the power of the sphere of reality,
May any purpose we desire,
All whatever,
Be realized without obstruction!
Upon completing the land owner offering, talk to the land gods. Request them to continue to guard this area, let them know you are staying here on a temporary basis and will make regular offerings to them, as advised by your lama, H.E. Tsem Rinpoche