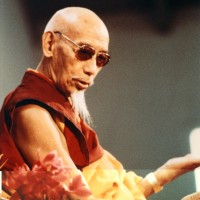 Good quality, high resolution images of attained masters and high lamas, absolutely FREE!
Yes, you can download and print high-resolution images of the Enlightened Beings, Buddhas and High Lamas absolutely free. Why are we doing this?
We realise that it can sometimes be difficult to find good quality, iconographically correct images of the various Buddhas and Bodhisattvas, especially in places where Dharma is not strong, or in remote areas. Therefore, we are very happy to be able to make this selection of images available to everyone to download at absolutely no charge. The images are high-resolution and of sufficient quality to be printed clearly on an A4 or A3 sheet of paper and framed for your altar or shrine.
Enjoy these good quality, high resolution images of these attained masters and high lamas, who are turning the Wheel of Dharma around the world today, or who have been instrumental in spreading the Dharma in the years gone by.
** Note that the high resolution files are large (up to 3Mb each) and will take some time to download.
HIS HOLINESS KYABJE ZONG RINPOCHE
The Late Kyabje Zong Rinpoche was a great scholar and tantra master of the Gelugpa lineage, and known as an emanation of the Buddha Heruka Chakrasamvara. After his exile from Tibet, Zong Rinpoche was appointed by His Holiness the Dalai Lama as principal of the Institute of Higher Tibetan Studies at Varanasi, India. First invited to the West by Lama Thubten Yeshe in 1978, Zong Rinpoche had many Western students.
Kyabje Zong Rinpoche is the root Guru of H.E. Tsem Rinpoche, when they met at Thubten Dargye Ling (TDL) Dharma centre in Los Angeles. During Kyabje Zong Rinpoche's 6-month stay at TDL, Tsem Rinpoche served Zong Rinpoche daily and tirelessly, a supreme example of Guru devotion.
The previous Zong Rinpoche passed away in 1984 at Gaden Shartse, where he was once abbot. His current incarnation now resides in Gaden Shartse monastery, where he is studying and preparing once again to continue turning the wheel of Dharma.