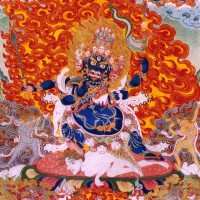 Sanskrit for "Great Black One", Mahakala appears in 75 different forms, each an emanation of a different Buddha.
A unifying aspect of Mahakala is his wrathful demeanor which is about his inner quality of immense compassion like that of a mother displaying a fierce disposition to deter her child from being hurt by playing with fire.
This ferocity also shows his swift nature in response to our heartfelt prayers. Every pore of his body emits jets of flames engulfing his entire body with a spectacular aureole of obstacle-cleansing pure flames.
One of the more popular forms of Mahakala is Four-Faced Mahakala, the Lord of Stainless Wisdom and an emanation of Manjushri, Buddha of Wisdom. His four faces and four arms indicate his realization of the four noble truths.
One arm brandishes the wisdom sword of Manjushri indicating the sword-like capacity of his practice to cut asunder delusions and obstacles. Another hand wields a tantric staff which ends with a trident, representing the transmutation of ignorance, pride and anger, the root causes of our suffering.
Mahakala's three characteristic bulging eyes stare at opponents with a ferocity that knows no bounds. He holds the skull cup and ritual chopper, symbolizing his immense power of protection for practitioners on their turbulent voyage of spiritual practice.
Propitiated, relied upon and trusted by great masters such as Nagarjuna, Arya Chandrakirti, Lama Tsongkhapa and Kyabje Zong Dorje Chang, four-faced Mahakala is invincible in protecting one's inner space from maras and from outer interferences. He is the main protector of the Chakrasamvara tantras.
Mahakala's blessings are especially well-known for quelling difficulties and obstacles arising form anger and depression.
Short mantra:
OM SHRI MAHAKALA HUNG PHET
Long mantra:
OM MAHAKALA KALA BIKALA RATRITA DOMBINI CANDALI RAKSHISI SINGHALI DEVIBHYO HUNG PHET