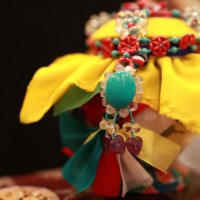 Wealth vases are extremely powerful in attracting energies of wealth and increase. They eliminate obstacles to material gain and prosperity so that we may focus on our practice of inner transformation and attainments.
In other words, they confer blessings for us to attain inner and outer wealth.
Inner : Spiritual attainments
Outer : Material wealth, sustenance, financial support
The ancient Saint Padmasambava gave specific instructions for creating wealth vases, which represent the wealth deities themselves. Tibetans have kept wealth vases for centuries where they are placed in homes, on the altar and even buried in the ground. The methods for creating them have been preserved in Tibetan monasteries.
Authentic wealth vases are hand-made by monks to enhance our Dharma practice. They are made according to specific scriptural instructions and are not produced for commercial purposes. They contain precious items such as relics from high Lamas, holy items, precious gems, and the five natural elements such as earth, gold and silver. Upon completion, a large prayer session is conducted to invoke and seal the energies of the wealth Buddhas within the vases.
Wealth vases may be personalised with pearl decorations or other precious items as an offering to the Buddhas and will enhance the wealth vase's positive energies.
Note: VajraSecrets offers wealth vases in various sizes from the prestigious Gaden Monastery in South India.