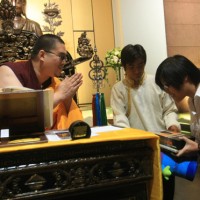 To take Refuge in a Guru and in the Three Jewels (Buddha, Dharma, Sangha) means to have complete faith that they can show us the methods to bring out our full divine potential and ultimately, to lead us to full Enlightenment.
It allows us to link our presently limited capabilities with that of the unlimited compassion, wisdom and power of the Buddhas, as well as aspiring towards the attainment of those same qualities.
H.E. Tsem Rinpoche usually gives the refuge vows twice a year, during Wesak Day and Tsongkhapa Day. Prior to attending the refuge ceremony, refuge-seekers must attend a class conducted by His Eminence's senior students. The class covers various essential topics including what it really means to take refuge in a Guru, and in the Three Jewels.
Contact the Liaison of Kechara House, Yap Yoke Fui ([email protected]) to find out more about taking refuge with His Eminence.