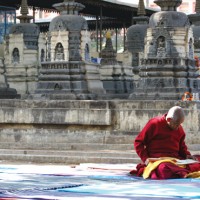 HOMAGE TO THE BUDDHA
LAMA TON PA CHON DEN DAY DAY SHIN SHEG PA
DRA CHOM PA YANG DAG PA DZOG PAY SANG GYE
PAL GYAL WA SHAKYA TU PA LA
CHAG TSAL CHING KYAB SU CHI WO CHO DO JIN GYI LAP TU SOL
To the Guru and founder, the endowed transcendent destroyer,
the one gone beyond, the foe destroyer, the completely perfected, fully awakened,
the glorious conqueror, the subduer for the Shakya clan,
I prostrate, go for refuge and make offerings. Please inspire me.
Mantra: TAYATHA OM MUNI MUNI MAHA MUNI SHAKYAMUNI YE SOHA(7x)
OFFERING PRAISE
TAM CHE DU NI SA ZHI DAG
SEG MA LA SOG MAY PA DANG
LAG TIL TAR NYAM BAR DU YE
RANG ZHIN JAM POR NAY GYUR CHIG
Everywhere may the ground be pure,
free of the roughness of pebbles and so forth.
May it be the nature of lapis
and as smooth as the palm of one's hand.
OFFERING PRAYER
LHA DANG MI YI SHO PAY DZAY
NGO SU SHAM DANG YI KYI TRUL
KUN ZANG CHO DRIN LA NA MAY
NAM KAY KAM KUYN KYAB GYUR CHIG
May the offering substances both human and divine,
those actual and those which are emanated,
unsurpassed Samantabhadra clouds of offerings,
fill the entire space.
OFFERING CLOUD DHARINI
It is taught in the sutras that this brings infinite benefits such as raining a great rain of offerings in front of the conquerors and their children.
OM NAMO RATRANAYAYA NAMO BHAGAWATE BENZA SARA PRAMADINYE TATHAGATAYA ARHATE SAMYAK SAM BUDDHAYA TAYATA OM BENZE BENZE MAHA BENZE MAHA TESHA BENZE MAHA VIDDHYA BENZE MAHA BODHICHITTA BENZE MAHA BODHI MANDROPA SAM KRAMANA BENZE SARVA KARMA VARONA BHIKSHU DANA BENZE SOHA
HEART OF DEPENDENT ARISING
OM YE DHARMA HETU PRABHAVA HAYTUNTE SHAN TATAGATO HAYWADAT TESHAN TSAYO NIRODHA EWAM WADI MAHA SHRAMANAYE SOHA
CONDENSED HEART SUTRA
MASAM CHOME SHERAB PAROL CHIN
MASHE MAGA NAMKEY NGO WO NYI
SOSOR RANGRIG YESHE CHOYUL WA
DUDUN GYELWAY YUM-LA CHAG TSAL LO
Mantra: TAYATHA OM GATEY GATEY PARAGATEY PARASAMGATEY BODHI SOHA (7x)
REQUEST TO TURN THE WHEEL OF DHARMA
JE-TSUN LA-MA DAM-PA CHEY-NAM KYI
CHO-KU KA-LA CHEN-TI TIN-TIK NEY
JI-TAR TSAM-PI DUL-SHIH DZIN-MA LA
ZAB-JI CHO-KYI CHAR-PA WHAP-TU SOL
All you holy Gurus, unerring in conduct, may you precipitate a rain of realisation of Bodhicitta and Shunyata from the clouds of all-knowing compassion which fills the Dharmakaya sky, providing for the field of disciples precisely what is needed.
INVOCATION
MA LU SEM CHEN KUN GYI GON GYUR CHING
DU TE PUNG CHAY MI ZAY JOM DZAY LHA
NGO NAM MA LU YANG DA KYEN GYUR PAY
CHOM DEN KOR CHAY NAY DIR SHEG SU SOL
Protector of all beings without exception, divine subduer of innumerable negative forces, deity, perfect knower of all things, Bhagawan and attendants, please come here.