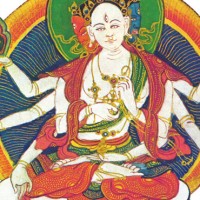 Namgyalma, also known as Ushnisha Vijaya, is one of the three Long-Life Deities, the other two being Amitayus and White Tara.
She is white in colour and has 3 faces, white, yellow and blue. Her faces have peaceful, semi-wrathful and wrathful demeanours.
She has eight arms, each holding different implements and sits in the meditative position on a lotus.
Her practice is extremely efficacious to remove obstacles for one's long life. She bestows longevity on beings for the purposes of attaining Enlightenment and benefiting others.
Her spiritual energy in the form of sound that helps to transform the mind (Mantra):
OM DROOM SOHA