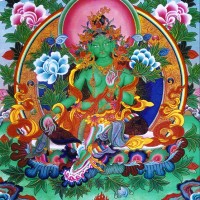 The great Buddha Green Tara (the most common form of Tara) who made the vow to return always as a female Bodhisattva is resplendent in her aura of green, radiant with the attainment of all the six perfections of giving, ethics, patience, effort, meditative stabilisation and wisdom, and bright with her ever-compassionate care for all sentient beings.
Tara is immensely beautiful, youthful like a 16-year-old maiden. Her top is naked though not in a lustful way – she is bare in the way that she remains unshackled by the times of samsara, free from suffering.
At the same time, she wears the slender, bright pants traditional of Indian ladies to show us that though she is enlightened, she works through samsaric conventions to help us overcome our suffering.
Because of her strong karmic connection to all sentient beings in samsara, Buddha Tara tilts towards us in her great compassion to listen to our prayers, grant us our virtuous wishes and protect us as a mother would for her child.
She is emerald green, splendid in the swiftness that the coolness of the colour represents. Her ability to come to our assistance as we invoke her presence is instant – we need only think of her to have her compassionate heart with us.
Unusually, Green Tara does not sit in meditative pose; instead her right leg extends outwards, to show us that she is ready to step forward to help us in our time of need.
Her spiritual energy in the form of sound that helps to transform the mind (Mantra):
OM TARE TUTTARE TURE SOHA
The Green Tara (source of the other twenty emanations):
OM TARE TUTARE TURE SOHA
The Tara who Averts Disasters:
OM BANZA TARE SARVA BIGANEN SHINDHAM KURU SOHA
The Tara Who Averts Earth-born Calamities:
OM TARE TUTARE TURE MAMA SARVA LAM LAM BHAYA SHINDHAM KURU SOHA
The Tara Who Averts Destruction Wrought by Water:
OM TARE TUTARE TURE MAMA SARVA BHAM BHAM DZALA BHAYA SHINDHAM KURU SOHA
The Tara Who Averts Destruction Wrought by Fire:
OM TARE TUTARE TURE MAMA SARVA RAM RAM DZALA BHAYA SHINDHAM KURU SOHA
The Tara Who Averts Destruction Caused by Wind:
OM TARE TUTARE TURE MAMA SARVA YAM YAM DZALA BHAYA SHINDHAM KURU SOHA
The Tara Who Increases Wisdom:
OM RATANA TARE SARVA LOKA JANA PITEYA DARA DARA DIRI DIRI SHENG SHENG DZA DZANJIA NA BU SHENG KURU UM
The Tara Who Averts Heaven-born Calamities:
OM TARE TUTARE TURE MAMA SARVA EH EH MAHA HANA BHAYA SHINDHAM KURU SOHA
The Tara Who Averts Destruction Caused by Armies:
OM TARE TUTARE TURE MAMA SARVA DIK DIK DIKSHENA RAKSHA RAKSHA KURU SOHA
The Tara Who Averts Hell-born Calamities:
OM TARE TUTARE TURE MAMA SARVA RANDZA DUSHEN DRODA SHINDAM KURU SOHA
The Tara Who Averts Evil Caused by Robbers:
OM TARE TUTARE TURE SARVA DZORA BENDA BENDA DRKTUM SOHA
The Tara Who Increases Power:
OM BEMA TARE SENDARA HRI SARVA LOKA WASHUM KURU HO
The Tara Who Averts Evil Caused by Demons:
OM TARE TUTARE TURE SARVA DUSHING BIKANEN BHAM PEH SOHA
The Tara Who Averts Evil Affecting Cattle:
OM TARE TUTARE TURE SARVA HAM HAM DUSHING HANA HANA DRASAYA PEH SOHA
The Tara Who Averts Evil Caused by Wild Beasts:
OM TARE TUTARE TURE SARVA HEH HEH DZALEH DZALEH BENDA PEH SOHA
The Tara Who Averts the Evil Effects of Poison:
OM TARE TUTARE TURE SARVA DIKSHA DZALA YAHA RAHA RA PEH SOHA
The Tara Who Subdues Demons:
OM GARMA TARE SARWA SHATDRUM BIGANEN MARA SEHNA HA HA HEH HEH HO HO HUNG HUNG BINADA BINADA PEH
The Tara Who Heals Sickness:
OM TARE TUTARE TURE SARVA DZARA SARVA DHUKKA BRASHA MANAYA PEH SOHA
The Tara Who Bestows Longevity:
OM TARE TUTARE TURE BRAJA AYIU SHEI SOHA
The Tara Who Bestows Prosperity:
OM TARE TUTARE TURE DZAMBEH MOHEH DANA METI SHRI SOHA
The Wish-Fulfilling Tara:
OM TARE TUTARE TURE SARVA ATA SIDDHI SIDDHI KURU SOHA