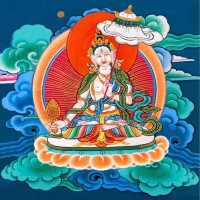 Dukkar in her full form is one of the most complex deities in the Tibetan Buddhist pantheon. Also known as Sitatapatra in Sanskrit, Dukkar is white in colour and her full form has 1000 faces, 1000 hands and 1000 legs.
Her main face is white, with a slightly wrathful expression. She has an eye in the palm of each hand. Her main left hand holds the handle of a white parasol unfurled above.
Held in her main right hand with the arm outstretched is a Dharma Wheel. Her 1000 legs, 500 on each side stand upon a host of worldly deities, animals and our worldly troubles.
Dukkar grants powerful protection from over 60 classes of spirits if we recite her mantra. It is said that prayer to Dukkar fortifies our body so strongly that spirits literally cannot invade. She is very healing and helps to strengthen the body against physical problems.
Dukkar's practice is very effective for purifying the karma for being wrongly accused such as in arguments or legal cases. She will be beneficial for those who travel often and who are exposed to risks and dangers daily.
Her spiritual energy in the form of sound that helps to transform the mind (Mantra):
OM SITA TA PA TREY HUM PHET